Welsh Lamb Coconut Yogurt Curry
Prep Time: 30 mins | Marinating Time: 2 – 4 hours | Cook Time: 2 hours | Servings: 4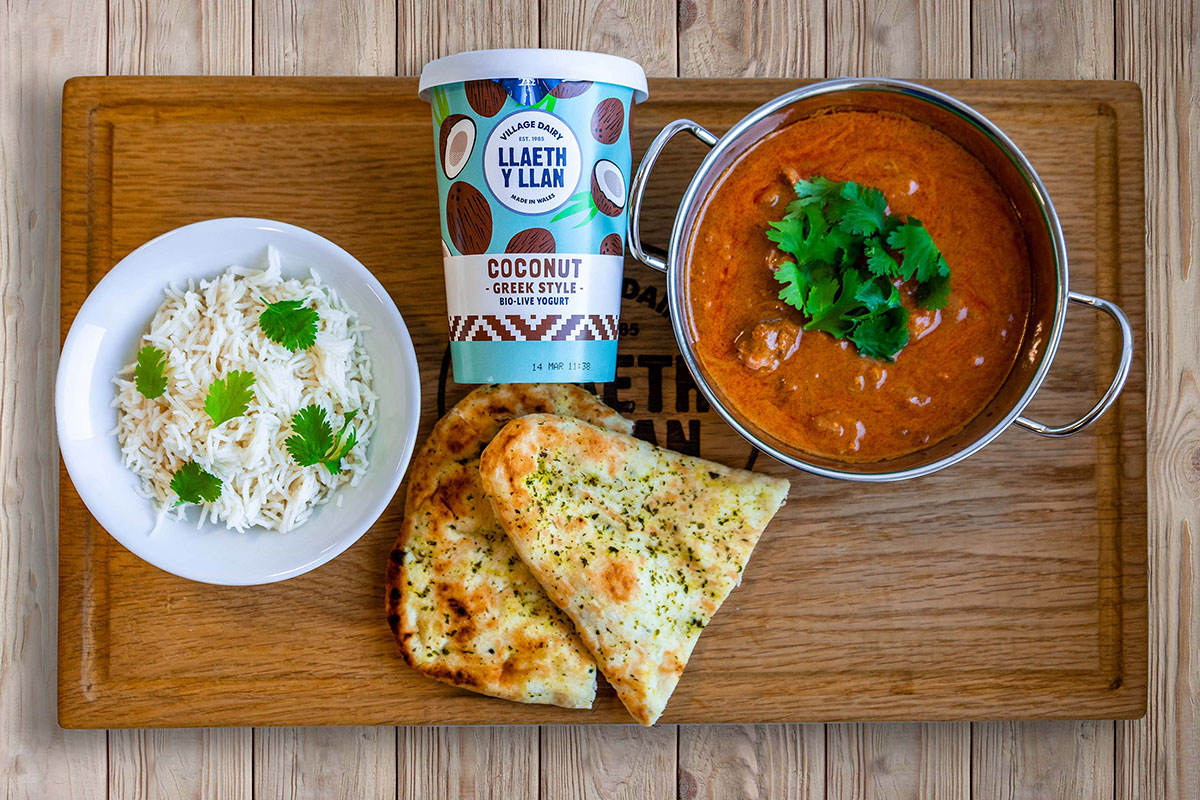 2 boneless Welsh Lamb Shoulders
450g Llaeth Y Llan Coconut Yogurt
Vegatable Oil, Butter or Ghee
2 x Onions
2 tsp Dry Curry Powder
1 tsp Nutmeg
1 tsp Dry Cumin
1 tsp Dry Coriander
1 tsp Dry Turmeric
1 tsp Dry Chilli Powder
½ tsp Dry Ginger
Salt & Pepper to taste
4 x Garlic Cloves
1 tin Chopped Tomatoes
750ml Water
Fresh Coriander for garnish
2 cups Basmati Rice
Dice the welsh lamb to preferred size. In a medium bowl, add the lamb and the coconut yogurt and massage into the lamb. Cover the bowl with clingfilm and allow 2 – 4 hours to marinate.
Dice the onions and garlic.
Take the lamb from refrigeration, preheat a large frying pan and add the vegetable oil. Add all the dry spices and gently stir for 1 min ensuring not to burn the spices, then add the onion and garlic and allow to cook until fragrant.
Add the lamb and marinated sauce to the pan and stir in until the spices, onion and garlic are well mixed.
Add the chopped tomatoes and water then bring to the boil, stirring occasionally.
Reduce to a low heat and cover with a lid, simmering for about 2 hours or until the lamb is tender, adding small amounts of water as the sauce reduces.
Add the basmati rice to water and cook until done.
Serve and enjoy.