We are still reminiscing over our Pudsey Spotacular Bake off last Friday, raising funds for Children In Need.
There was a delicious selection of Spotacular bakes:
1. Chocolate Smartie Loaf Cake
2. Swirl Spotted Cheesecake
3. Chocolate Crispy Squares
4. Chocolate & Jam Cookie
5. Lemon Drizzle Fairy Cakes
6. Welsh Shortbread Biscuits
We even had a special guest, Falmai Roberts, who kindly judged the competition for us 😀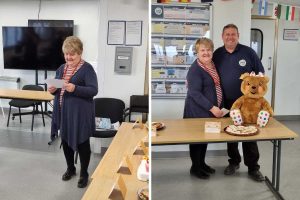 They were all delicious, but there could only be 1 winner, and that was Andy with his Pudsey Shortbread Biscuits!
We raised a total of £162 for this worthwhile charity, providing support and care for children and young people, helping them be the best that they can be.😊
We also ran a competition with Welsh schools to guess what Pudsey's favourite flavour of yogurt would be. We had some great entries, with Baglan Primary School taking the top spot with 'Strawberry Spots' 🍓